You all know this: You learn something new like a new word and then the next day you'll stumble across this new thing you have just learned in a newspaper. Most of this can be easily explained with some brain pattern matching: you have previously come across this word many times but because you didn't know it's meaning you could not remember those cases, but after you learned it you'll brain is programmed to search for those new words or things and you'll remember your learning experience.
Yesterday I was going to my parents place and my dad picked me up from the train station and he was listening to Car Talk and he explained what the program was all about. I'm pretty sure I haven't never listened that radio show before but I learned the concept and thinked that I wouldn't listened that show again for a long time, mainly because I just don't listen to radio.
And the next day I on my comic strip learning moment with my morning coffee I read todays XKCD (I read xkcd every day) strip: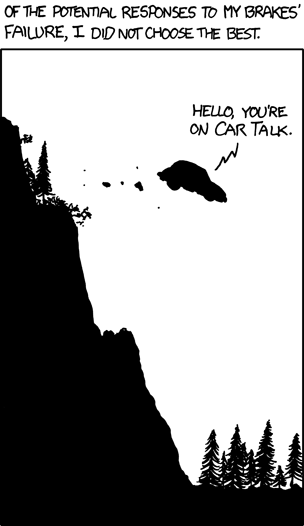 Now Randall Munroe please explain this!